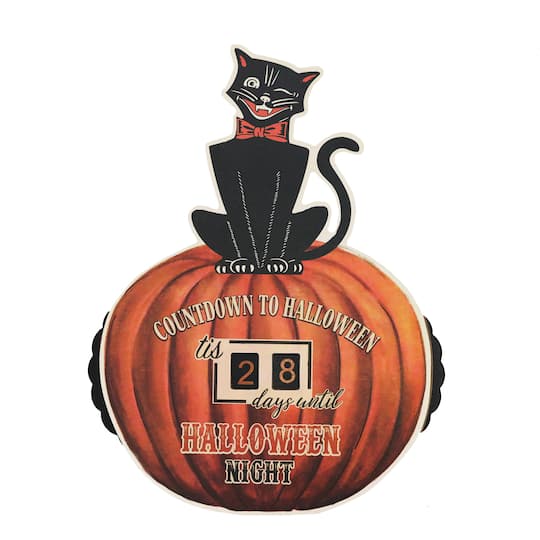 We got one of these Halloween countdown clocks this year from Michaels. My honey added some numbers to the blank spaces, so we can count down longer. I'm going to keep track of our seasonal doings, as best as I can.
September 20:
The Texas Chainsaw Massacre 2
. Never seen before. I liked it! Told my honey, "I think this is the movie Rob Zombie always thinks he's making." It's way over the top, but I think Tobe Hooper can pull it off.
September 21: Some shopping at Party City.
Godzilla: King of the Monsters
(2019). Third viewing. Almost finished reading
The Graveyard School: An Anthology
, edited by Jack G. Voller, from Valancourt Books. Also, bought pumpkin bread!
September 22: This is our
Downton Abbey
movie day, so limited Halloweening. Only, uhh, working on my upcoming essays for
The Haunted Cinema
, and listening to some soundtracks --
House of the Gorgon
,
Halloween
(2018),
The VVitch
, and
The Dead Don't Die
-- plus old-timey music from
The Little Box of Halloween
.
-- Had some everyday-life kind of days, but we've still gotten some activity in.
September 23: Our local Caribou Coffee debuted a new Pumpkin Latte, advertised as being made with real sugar, pumpkin puree, and "traces" of nutmeg and cinnamon. It was, surprisingly, what I got my hopes up for: more pumpkiny, and not really pumpkin-pie-y. So I had two during the week.
September 27: Watched
Happy Death Day
again. I'd seen it, but my honey hadn't, and he needed to catch up to see the sequel. In some ways a throwback to the classic '80s slasher style, but with an updated sensibility and style. Doesn't take itself too seriously, but also not like it's all a big joke. Really fun. Also, we just watched
Russian Doll
(not Halloween, but OMG excellent), so not only is the time loop trope really big right now, but there are two very different versions in which it's happening on the heroine's birthday. Something weird is happening with the zeitgeist.
September 28: Worked on a little project. Hit the Spirit Halloween store. I didn't buy any of the larger items featuring Sam from
Trick 'r Treat
, but happy to see him becoming a real icon of the season, and did get a plastic broken lollipop.
Then it was off to the Haunted Corn Maze! It rained on the way out to the country, but cleared up when we got there, so it was a perfect night for it. Even the roving packs of teenagers were mostly okay (and it's always fun to hear their screaming), apart from when some boys ran from a chainsaw and knocked two of my friends into the corn.
September 29: Re-watched
The Craft
in the afternoon. Watched
Happy Death Day 2U
in the evening. Have finished the great
The Graveyard Poets
book; have started Park Barnitz's book (from Hippocampus Press),
The Book of Jade
(lots of poems about death, the grave, and ennui!), and Stephen D. Sullivan's novelization of
White Zombie
.
October 1: Our 20th wedding anniversary! Worked on costumery, then met friends at the opening reception for
the exhibit "America's Monsters, Superheroes, and Villains: Our Culture at Play," put on by
SuperMonster市City!
We dressed as Joyce and Hopper, from
Stranger Things
.
October 2: Watched
Haunters: The Art of the Scare
. Had a lot of potential, and talked to some interesting people, but marred by its focus on a sociopathic asshole who runs an "extreme" backyard site. Alas.
October 4:
The Thing from Another World
!
October 5: Worked on a project. Spur of the moment decision: the Riffrax
Zombie Nightmare
. Finished the
White Zombie
novel.
October 6: Finished
The Book of Jade
, and started Hilda Lewis'
The Witch and the Priest
(from my friends at Valancourt Books). Then it was off to see the original
Ghostbusters
in the theater.
October 7: Wanted to do something in the classic vein, so we went with
Dracula's Daughter
, which I've wanted to re-watch for a while. It predates
Cat People
, which interested me, since I thought it had some similar dynamics: a no-nonsense American girl secretly jealous and a little worried about her boss's interest in an exotic European woman with a tragic occult background.
October 8: Absorbed in
The Witch and the Priest
; it's super-compelling! My CD of the
Stranger Things
Season 3 score came in the mail, which I really like for its weird discordant elements.
October 9: Watched Part One of Mark Gatiss'
History of Horror.
Also received my Beistle Box in the mail from Creepy Co.
- Took a break and went on a whirlwind tour of New Orleans. Did a Save Our Cemeteries
Tombs by Twilight
tour, which also went to the historic Hermann-Grima House, which was decorated for mourning, and then went to the
Evening with Sid Noel
(aka
Morgus the Magnificent
). The night that I was exhausted and turned into my hotel room early, the original
Halloween
was on TV! I'll be writing something about Morgus, and will post a link eventually.
October 16: Saw
Alien
on the big screen. So many things I'd never noticed before in my previous viewings, and the outer space element was so much more impressive than even a big-screen TV.
October 17: Our spooky karaoke night.
October 18: The local Spooky Ballet at the historic downtown theater. I dressed as "the Picketty Witch" (the rhyme seems to have been made up for
Sleepy Hollow
: there was a famous Picketty Witch in the U.K., but it's from "wich," as in Greenwich or Dunwich). I had a long autumn gold skirt, a satiny black top, and a witch's hat. My honey wore a vintage-style devil mask, with a matching red and maroon outfit.
October 19: Went to Boo at the Zoo: a fundraising event for, yes, the local zoo. Lots of decos up, and tons of little kids in costume, which was good to see. I always like to visit my friends, the ravens. In the evening, watched the second and third parts of Mark Gatiss'
History of Horror.
October 20-21: Took the nights off from watching anything, and finished
The Witch and the Priest
. Then I started wolfing down J.B. Priestley's
Bright Day
, which is not seasonal at all, except for its overriding melancholy about the passing of time, which is suitably autumnal.
October 22: The crazy animated 1978
Witch's Night Out
, featuring the voice of Gilda Radner. Have had the catchy theme music ("Halloween! Witch magic, Halloween!") in my head ever since.
October 23: Historic theater had an impromptu free showing of
House of Frankenstein
! We wore our
Frankenstein
and
Bride of Frankenstein
t-shirts.
October 25: We were talking about
Love at First Bite
, the other night, so impulsively watched that. I'd actually never seen it in its entirety, and I was very surprised that George Hamilton made a decent Dracula! I frankly think he was better than John Carradine's, since that was fresh in my memory.
October 26: Mostly busy with other obligations, but did sneak in a listening of the amazing new Something Weird CD compilation,
Spook Show Spectacular A-Go-Go
.
October 27: Worked on projects, so no details yet. In the evening, read David Acord's fun little book,
Graveyard Groove: The Haunted History of Monster Music from "Monster Mash" to Horror Punk
. Then re-watched the 2018
Halloween
. I think on the small screen, its resemblance in story line to some of the lesser
Halloween
sequels showed up a little bit more. In the end, I still prefer the
H20
Laurie Strode better, and I certainly like the kids better. But on the other hand, I could totally watch a whole movie with Judy Greer as a badass, and who knew that would happen? So someone give Judy Greer a smart, funny action movie, or maybe a contemporary take on Van Helsing, with her in the lead! I do still really love John Carpenter's new version of the score, and I still find it superior to some of the big-splash horror films, like
Hereditary
and the
Suspiria
remake, that I was underwhelmed by.
October 28: Read a short novella from 1880
,
After Ninety Years: the Story of Serbian Vampire Sava Savanovic
, by Milovan Glisic. I heard about it on
Monster Kid Radio
, as the source for an obscure 1973 vampire film called
Leptirica
, which I also need to watch. It's a very slight tale, but interesting as a fictional account of real-life folklore. For example, as found in Paul Barber's classic book
Vampires, Burial, and Death: Folklore and Reality
, the vampire's face is bright red.
October 29: Went to the first Monster Ball at the local historical society. Very fun, but probably not as well-attended as they hoped (much like the party we went to last year). I was Medusa, my honey was the vintage devil, and our friends went as David S. Pumpkins and one of the dancing skeletons (who looked eerily like the ones in the skit!)
October 30: Finally watched
The Autopsy of Jane Doe
-- very creepy and well-made -- followed by the classic
Star Trek
episode, "Catspaw."
October 31: Got to dress up at work, so I reprised the Joyce, as the most comfortable to wear in the office all day. Later, we walked down the block to where the trick-or-treaters are thick, where the Spooky Ballet folks did a performance of "Thriller" on a lawn. Loads of people: I think it's becoming their new
Nutcracker
! Then off to the Sons of Norway Halloween party. My honey and I were dressed as a '70s horror double feature: he was
The Texas Chainsaw Massacre
, and I was
The Fog
, in the most ridiculous costume I may have ever worn: my KAB t-shirt, with clumps of white spider webbing pinned all over me to simulate an attack from the fog. Inspired by the amazing and ridiculous action figure from
Death by Toys
.
And that wraps me up! I'm really enjoying keeping track of my reading and movie-watching, and often regret that I haven't done that in life. Maybe I'll keep further logs.
It's been a pretty busy and amazing Halloween season! And, like true October People, we're already discussing our plans to next year.